Piezoelectric ceramic tubes
Features :
Sizes from 6mm up to 180mm
Wall Thickness from 0.5mm up to 15mm
Choice of metallisation (Silver, Nickel, Gold and others on request)
Wide choice of PZT formulations
Application: oilfield detection
Piezoelectric ceramic Material: PZT-43 (modified PZT-4D)
Piezoelectric Elements

technical data:

Dimensions:

diameter 36mm, wall thickness 32mm, height 40mm

Thickness Frequency Fr:

25KHz ± 2 KHz

Frequency Bandwidth ΔF

>350 Hz

Dielectric Loss tg δ:

< 0.5%

Static capacitance Cs:

48000pF±12.5%

Test Condition: 25±3 °C 40~70% R.H.
fr, Zm, Kr => Radial mode vibration
Cs tanδ => LCR meter at 1KHz 1Vrms
Yuhai piezo material applications:
Piezoelectric Ceramic material
Properties and Classification
General description of material properties
Material Code
Properties
Application
Soft PZT ceramic
PZT-51
Characteristics: larger piezoelectric constants, higher permittivity, larger dielectric constants, higher dielectric losses, larger electromechanical coupling factors, low mechanical quality factors, a lower coercive field, poor linearity, and is easier to depolarize.
low-power ultrasonic transducers
PZT-52
low-frequency sound transducers
PZT-53
applications with high g coefficient, for example,
PZT-5H
microphones,vibration pickups with preamplifier
PLiS-51
low-frequency vibration measurements
PMgN-51
Hydrophones, transducers in medical diagnostics
PSnN-5
Actuators
Hard PZT ceramic
PZT-41
Characteristics: smaller piezoelectric constants, lower permittivity, smaller dielectric constants, lower dielectric losses, smaller electromechanical coupling factors, high mechanical quality factors, a higher coercive field, better linearity, and is harder to depolarize.
PZT-42
High-power acoustic applications
PZT-43
Hydroacoustics, sonar technology
PZT-82
piezomotor
PCrN-4
PBaS-4
Lead free Piezo Ceramic
BaTiO3
Characteristics: Low density, low curie temperature, lead free.
Ultrasonic transducers suitable for low-temperature underwater, for example Ultrasonic Transducer in fishfinder
Yuhai company provides:
Ÿ Piezoceramic materials (PZT) , more than 30 formulations of piezo materials
Ÿ Piezoceramic components
Ÿ Customized piezo ceramic components and ultrasonic transducers/transducers
Ÿ Various different shapes in many different geometries such as disks, plates, tubes, customized shapes
Ÿ High resonant frequencies to 10 MHz
Ÿ Piezo composite machining
Core Competences of Yuhai Piezo Ceramic Elements:
● more than 30 formulations of piezoelectric materials, stable and superior performance, to meet various piezo applications.
● Forming process with dry pressing, rolling film and isostatic pressing.
● High precision machining equipment for other special shaped components such as inner, outer circle and hemisphere.
● be the manufacturer of supplying the most complete components varieties in China.
● Certified in accordance with ISO 9001.
● product consistency reached 99.9%
OEM Adaptations
● Piezo transducers for ultrasonic applications
● Assembly of complete transducer components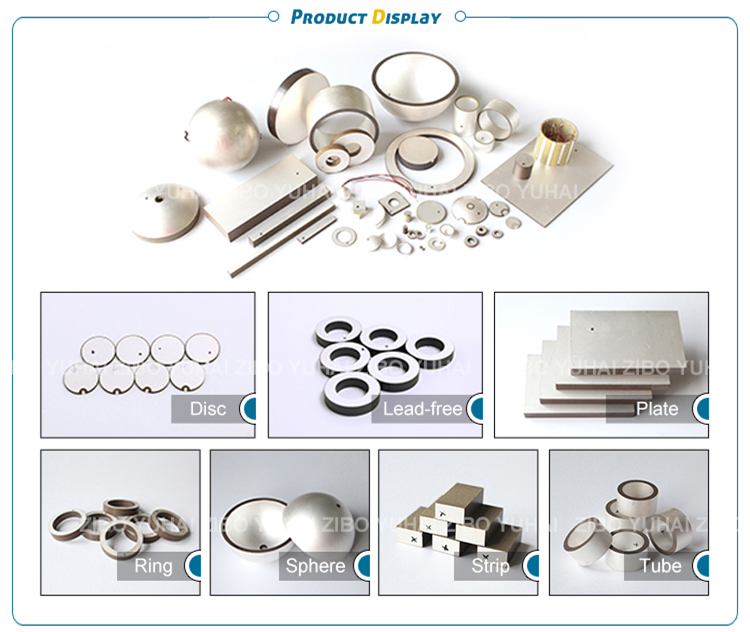 ●
Looking for ideal Piezoelectric Ceramic Crystals Manufacturer & supplier ? We have a wide selection at great prices to help you get creative. All the Piezoelectric Ceramic Materials are quality guaranteed. We are China Origin Factory of Piezoelectric Ceramic Transducer. If you have any question, please feel free to contact us.
Product Categories : PZT Piezoelectric Elements > PZT Piezoelectric Cylinders/Tubes